I'm excited to introduce Dan Sedlacek, founder, owner, and main craftsman behind Uphill Designs, a Seattle-based outdoors company specializing in handcrafted, rustic gear for the modern adventurer. After through-hiking the Pacific Crest Trail in 2013 with a tent and pack that he had sewn himself, Dan saw a need for a more minimalist approach to outdoors gear in the marketplace. In 2014, he founded Uphill Designs with the intent of creating functional, durable gear that could be customized to the individual and withstand both time and the elements. Their one-of-a-kind bamboo hiking poles and waxed canvas packs are all handmade from natural and sustainable materials, designed to blend in with the trail and keep you connected to nature, whether in the mountains or in the city. In an effort to give back to the very wilderness that inspired the products, a portion of the company's proceeds is donated to the Pacific Crest Trail Association to directly support trail maintenance. Though Uphill Designs is still a fairly young company, they are well on their way toward establishing a home in the world of high-quality, timeless outdoors gear. I recently had the privilege of meeting with Dan over coffee, where he shared with me more about the backstory, vision, and heart behind Uphill Designs.
Flying Trees (FT): Where are you from originally? How did your passion for the great outdoors, and more specifically the Pacific Crest Trail, first begin? Dan: I'm originally from Olympia, WA. As a kid, I grew up hiking and exploring the mountains in the Pacific Northwest, which is where it all started for me. When I was 13 years old, I went on a 50-mile hiking trip with the Boy Scouts, which covered part of the Pacific Crest Trail (PCT). During that trip, we ran into a group of through-hikers, who had been hiking north from Mexico for 5 months. They were these scraggly looking men, and they all had these big beards and crazy looks in their eyes. I was on the longest backpacking trip of my life at that point, which was only 5 days long, so I couldn't believe that they had been on the trail for 5 months. As a 13-year-old kid, that really stuck out to me. I think from then on, I had this spark in me. I knew I wanted to learn more about that, and eventually hike more of the PCT one day.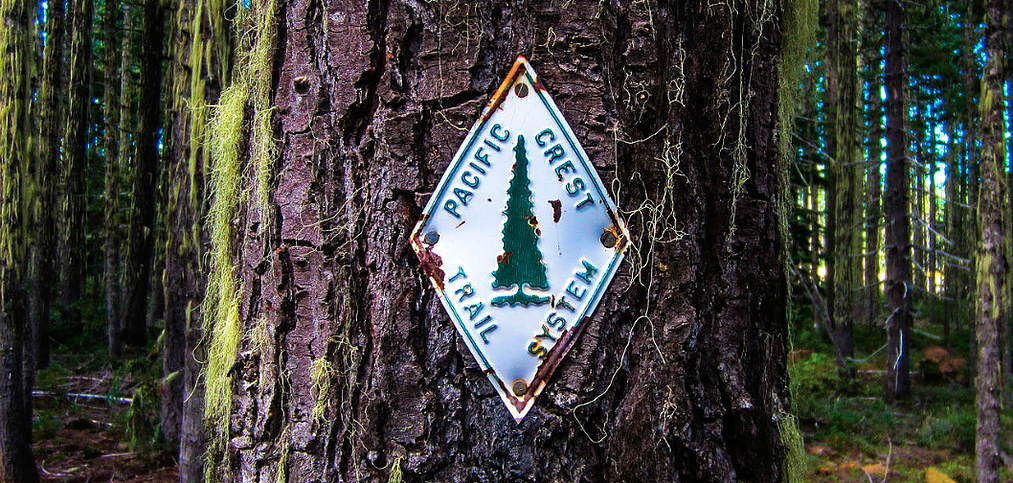 FT: Tell me a little more about the journey that lead to eventually starting Uphill Designs. Do you have a background in business or product design? Dan: Initially, no- In college, I double-majored in Physics and English and then worked as Medical Physics Assistant at Massachusettes General Hosptial in Boston for about 3 years. I worked with the machines used for Linear Accelerator Therapy, which is a type of radiation therapy for cancer. I loved and enjoyed my work- but the problem was that I was working 100 feet underground every day. I just couldn't see myself being happy in the long term, so I started thinking about other options and next steps. Around that time, my grandmother passed away. As I was reflecting back on her life, I was thinking a lot about my own life and how I wanted to live it to the fullest. At her funeral, I decided that it was time to finally through-hike the PCT. I quit my job and headed back to the West Coast. As I was preparing for my trip, I ended up deciding to build my own gear, which is where the initial inspiration to eventually start a company first began. In fact, the prototype for our current pack is almost exactly like the original pack I had made for myself. FT: Wow, so you made all of your own gear? Even your sleeping bag? Dan: I made my tent and pack from scratch; [laughs] it had actually been a part of my original plan to make a sleeping bag too, but that didn't work out. I ended just up buying one, and it was great. But I tried to repurpose a lot of the other items I couldn't make or didn't already own, like old gatorade bottles for water, and ultralight tupperware for food. My goal was to travel as light as humanly possible, so I also didn't take a stove. I used ziplock bags to soak my food instead of cooking it- definitely not the same as a hot meal, but after 15 hours of hiking, I didn't really care at that point.
FT: So why exactly did you decide to make everything yourself? Aren't there tons of options out there for sturdy, light-weight backpacking equipment? Dan: A few reasons- I one-hundred percent wanted to have my pack below 20 pounds, and ideally below 15 pounds. I ended up getting well below that, at 8 1/2 pounds before food and water. People definitely hike the PCT successfully with double or even triple that amount of weight, but every extra pound that you are carrying puts more pressure on your feet and knees. I averaged a marathon a day, over the course of 101 days. We're already not supposed to be walking that far in a day. It's really bad for you. But I spent about 6 months trying to hone down exactly what I needed; I had a spreadsheet comparing all kinds of different gear- I can get pretty analytical and obsessed with gear research. But I was finding that in order to get my pack down to where I wanted it, I would need to engineer it myself. Yeah, there are a lot of options out there on the market for lightweight packs and stuff, but it's typically at a very high price. And nothing was available that was as light as what I was able to make myself. Ultimately, what it really came down to for me was "feature creep." FT: "Feature Creep?" I don't think I've ever heard that term before- what does that even mean? Dan: Products you look for in a typical store are made for the average consumer. They are made for the average hiker doing an average trip, so they have a little bit of everything- they have gear loops that I may never use, or an ice axe loop that I'll never use. They might have four pockets when I only need one, or zero. They might have water bottle holders that hold one small water bottle when I need four huge water bottles [so many creeping features...]. There was just nothing that fit exactly what I needed- so I built it. I mean, it took me a couple of days to sew, but in the end, I ended up with an 8 oz. backpack for the price of something like, 100 dollars for all the materials.
FT: Wow, that's crazy. How did you even know where to begin, sewing your own pack and tent? The idea of building that kind of stuff from scratch would be daunting, and probably out of the question for most people. Dan: My mom is actually a pretty talented fabric artist- she spins, weaves, knives, embroiders, sews.... She taught me a lot of my sewing skills from a young age. Since I grew up surrounded by that culture and thought process, I think the idea of doing something like this was a definitely a little less daunting. I'll admit that I don't actually love to sew- but I love the result that comes from it. One thing that was really awesome about making everything myself is that it gave me an intimate knowledge of my own gear. If something was to break, or go wrong, I knew exactly how to fix it, because I was the one who built it in the first place. I mean, for most people, if something you buy breaks or stops working, you end up throwing it out or buying a new one. FT: So how did you make the leap from building stuff just for yourself to starting a company and producing in mass? Dan: After my trip, I enrolled in the Materials Science and Engineering master's program at the University of Washington. I wanted to have the background and credentials in order to produce and market high-quality, trustworthy products. I originally had this 5-year plan, where I thought I would go into consulting for a bit, then go back and get an MBA, and then start a business. But instead I skipped all that went straight to starting a business. I finished my Master's degree in three quarters and then got into the Jones + Foster Accelerator Program at UW, which is a competitive 6-month-long mentoring program for new start-ups. Getting into that program was basically what allowed me to launch into the company full-time, right away. Timing is everything.
FT: Wow, it sounds like you really hit the ground running! Three quarters is so fast for a Master's program... is that normal? Dan: No [laughs]...It's barely possible! But I think if the PCT taught me anything, it's that consistent, hard work gets you so much further than anything else. Having a brilliant idea is one thing, but if you have a good idea that's a solid idea, and you put consistent hard work into it, with passion behind that, it's going to get you a lot further. For me, entrepreneurship and long-distance hiking are so intertwined and so similar. I think I draw the strength for entrepreneurship from long-distance hiking. Just as I saw other hikers, who were much better or stronger than me not finish- they would get way-layed by distractions, or by injuries they wouldn't take care, or by the outside world... it's the same with business. I've seen companies who have had a huge step up on us with much more money-maker ideas than ours, or much more intricate business plans- crash and burn because of various reasons.
FT: Tell me a little more about the products that are currently available at Uphill Designs. How do you choose the materials that go into making all of the products? Dan: When I started the company, I knew that I wanted to use what was naturally available first- natural fabrics, woods, metals, leather as opposed to synthetic material. I also want our products to blend in with the outdoors, so we purposely choose muted, natural colors for everything. We use almost no synthetic materials in our products, except for where sweat and water need to be accounted for, such as on certain parts of the packs. The bamboo hiking poles were actually the first product that we developed at Uphill Designs. This was one thing that I hadn't previously made for my PCT trip, but I saw it as a need in the market and nobody else was doing it. Bamboo is one of the most durable and sustainable woods available, so it makes perfect sense to use in manufacturing hiking poles. We have both fixed-length poles [customizable to size] and collapsible poles, made with two interlocking pieces of brass. We currently have three different types of packs right now- a daypack, a larger backpacking pack, and a classic messenger bag that includes an extra strap to hold it in place while biking. All of our packs are made with waxed cotton canvas, leather straps, and brass hardware. FT: What types of custom features are available? Dan: Our base models all include specific features, but the option is there to add additional custom features, such as extra pockets, clasps, straps, padding for things like camera lenses, or rubber cane tips for indoor use with our poles- basically whatever people want or need, we try to accommodate for. So far, we have not yet been unsuccessful with a custom order!
FT: Where do you get all your materials and who is involved in the manufacturing process? Dan: Our materials come from a variety of vendors. When choosing where to order from, there are a variety of constraints to factor in, such as cost, weight, color, and shipping costs. We compare several companies and then order the best materials that are available. Right now, we get our leather comes fromTandy Leather in Seattle. We've been ordering the waxed canvas from Fairfield Textile, an East Coast company, and we order our bamboo from mostly US companies, who source from China. Everything is made by hand in our Seattle workshop by myself and one other employee, so our hands have literally been on every piece that goes into making the products we sell. FT: Do you have any current goals or future plans for Uphill Designs? Are there any new products on the horizon? Dan: There are many goals and plans for the future... But one of our big goals for 2016 is to build a bigger community that we interact with, both online and in real life. We just started a new thing where we are are sponsoring monthly public hikes. People can join us on the hikes and test out our equipment. It gives us a way to do something we love, and fully embrace what we are trying to embody as a company, which is getting outside and connecting with nature. As far as new products go, right now we are primarily focusing on the packs and poles, but my goal is to eventually come out with a tent. FT: What's the best way to stay connected and informed about community hikes, new products, and other news? Dan: You can visit our main website and online store at www.uphilldesigns.com. You can also follow us on Instagram at @uphilldesigns and on the Uphill Designs Facebook page. We have a separate Facebook group called Uphill Adventures, which is the main place where we post about upcoming public hikes and other community events. Another way we are looking to build the online community is through our new #modernadventurer campaign on Instagram. Ultimately, we want to encourage and inspire people to live intentionally, be environmentally conscious and aware, and seek out adventure to the fullest in daily life, not just on the weekends.